Born in 1959, my first musical flashbacks are the Ray Conniff Singers, Esther & Abi Ofarim (Cinderella Rockefella), and not to be missed the Beatles (She loves you).
First started listening to radio around 1967. But from 1969 on, i went to local record shop The Wit to get a copy of the Veronica Top 40 (later the Dutch top 40).
Every saturday i was in front of the radio, with my top 40 list and listened concentrated to "the national saturday afternoon happening" on Veronica.
First the Top 40 and after that the hitpick(s) (30) of the DJ's of Veronica.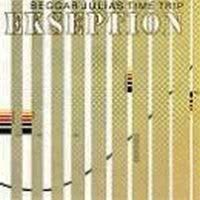 My first LP record was Beggar Julia's Time Trip from Ekseption (1970), a year later followed by Ekseption 3.
Other albums that followed were amongst others: Blood Sweat & Tears, Meddle by Pink Floyd.

The first singles: El Condor Pasar by Los Incas, Springwater with I will return.
My first trade was a single i can't remember, but i got back the best track the Golden Earring ever made: She flies on strange wings.

When the Mebo 2 steamed up the northsea with RNI, there suddenly was a choice in offshore radio. Radio Northsea International was a more dynamic radio station then Veronica.
Veronica's goal was family radio. RNI promised to be the sound for a young Europe.
I wasn't very fond on some Veronica programmes. I disliked the sport program (Sorry, Berry Zand Scholten), also Met de benen op tafel van Gaston Huysmans en Men vraagt en wij draaien van Frans Nienhuys.

I liked RNI much more with Ferry Maat and Tony Berk, but the best program came at 16.00, aiming to the kids coming home from school: Driemaster with Leo van de Goot.
Almost legendary, the most noisiest DJ from the Netherlands.
Him was forgiven that he talked through the records, because it was always fun.
Very often he started Driemaster with heavy stuff like Alice Cooper, Deep Purple and Slade. Good music was to be heard on the english service of RNI in the evening.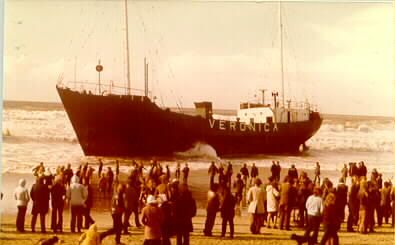 I remember that Veronica's Norderney stranded on the beach of Scheveningen on 2 april 1973. I have walked around the ship on the beach, even touched it when we were on holiday with my brother. Very impressive.

At the end of 1973 a third major offshore station arrived: It was Mi Amigo, broadcasting from the Mi Amigo, the radioship of Radio Caroline from England.
I didnt like the belgian sound of Mi Amigo. Not to mention the terrifying commercials for Suzy waffels. It all seem to come to an end on 31 august 1974. Duth law made it to tricky to go on broadcasting from sea. First Veronica closed down.
Dramatic and with a sudden turn off from the transmitter they got off the air.

Quickly i switched to RNI 220 for the last two hours.
At 20.00 medium wave signals get a bit wavy here in Holland.
RNI ended with Man of Action by Les reed and a distorted, getting slower and slower at the end of the jingle line saying: Radio Nordsee. It was like Radio Nordsee drowning in the Norhsea.
It slowly faded away untill there was nothing.

One ship stayed: Mi Amigo: With Mi Amigo at day and Caroline at night. On occasion Caroline was heard at day on the 10 Kw transmitter.
Mi Amigo was the only station that time to be heard, so i had to get used to the belgian profile. But in the evening something magic was to be heard.
A lot of nowhere to be heard music was aired.
The relaxing voice of Samantha Dubois (died unfortunatly), Stuart Russell and many others playing album music from artists never heard off.
Amazing stuff from Renaissance, Barclay James Harvest, Camel, Caravan, Curved Air, Pink Floyd, Genesis, Yes to name a few.
My whole music library and interest is based on the years 1974 to 1980.
This went on untill the Mi Amigo sank in a full force gale.

In the second part of the seventies i went for a holiday to England along with another radio friend. We visited Radio Orwell in Ipswitch. Andy Archer (Caroline, RNI) was doing his program there, and we were allowed in the live studio. This was a totally amazing experience.
Andy was completely selfsupporting, picking and queing the records himself, selecting and playing commercials and jingles.
Talking to people on the phone BEFORE going on air, and doing the call between the record playing.
In between he found time to talk with us and smoke another cigarette. (a package in 2 hours??)
As an answer to the closing of the offshore stations, landbased pirate music radio became big in Holland. Also Enkhuizen had his stations.
I was involved with Vrije Radio Enkhuizen (Free Radio Enkhuizen), Beachradio (several transmitters on several locations), EROS (Enkhuizen Radio brOadcast Foundation) and the biggest in this roundup: Ideaal FM (Ideal FM).
There were more stations in Enkhuizen (but u can't join or name them all) from which i respectfull name Horizon. Ideaal FM and Horizon became the biggest in the area and in their high time they were 24 hours a day, 7 days a week in the air.

I lost sight of Caroline. There were several reasons: The occupation with local pirate radio and the lack of publicity in dutch media were a few.
Ship sinkings and groundings of Caroline and the on and off the air going due to money and material problems were others.
Besides that i started a family and "career".

In the late eighties local pirate radio ended. Legal local radio and commercial radio were taking place. People started to listen through cable.
It was for me on music and radio front a bit of a dry period.
Untill in 1997 my brother in law gave me tickets for a Genesis concert with Ray Wilson in Rotterdam.
That triggered my music interest again. Concerts and festivals followed.
In 2000 a colleague introduced me to symphonic metal and gothic metal.
The circle was round again. From symphonic rock to less complicated rock (even punk) it went to metal and from metal back to symphonics again. I liked it a lot.
Nightwish, Rhapsody, Kamelot, Epica, Ayreon are a few to mention.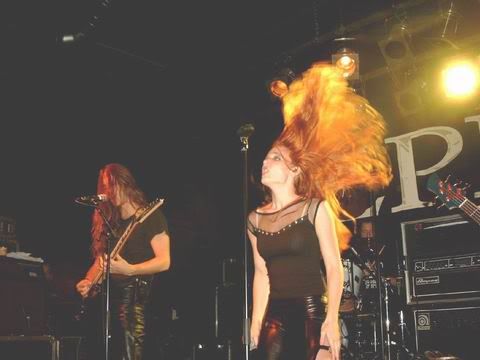 I also did get internet at the end of the ninetees. I found out that some of my favourite bands still were going strong (Renaissance, BJH, Kayak Asia).
And i started buying again. But more on DVD.

In 2002 a few Ideaal FM reunion rumours are starting. It finally became a sort of deal that Ideaal takes the saturday from Radio Enkhuizen in 2003.

De AFWISSELING starts somewhere in june 2003. By february 2004 it is decided to go thru under Radio Enkhuizen flag and drop the Ideaal station id's.

In august 2004 Veronica remembers that 30 years ago Offshore radio is closed down in Holland. It is celebrated with a RSL for a whole month.
I started searching for Caroline jingles and programmes.
On a peer 2 peer program i got into chat with Frank Idowski in Germany.
He gives me the URL of the year: www.radiocaroline.co.uk
It couldnt be a better time to listen to Caroline. They were also in the middle of a RSL.
I even could pick up a very low caroline radiosignal in my car, but they were there.
At home i listened to the audio stream on internet. It became clear later on that 2004 was the start of a new better program schedule at Caroline. It was great to hear the old lady back.
All the ideals and music format of the seventies were there along with the rock music of today and the last 25 years.

I listen to the Caroline stream everyday now and enjoying it very much.

Some programmes get right into my personal music vision (Pandora Rock box with metal and rock), Pat Edison with a very varied alternated program and there is a great progressive rock program on thursday by Rob Leighton Overall there is good music programming and all the presenters are doing a teriffic job.
January 2005 the domain www.beachradio.NL sees the light.
First on top of the Radio Enkhuizen website, but from 2006 on as (b)logsite.
Half 2005 i enter internet radio, first at Earthradio from Joe, but very soon after Earthradio closed down it is radio Samantha Bristol from Brian. Radio Samantha allows her presenters to do a completely free format show. A great station to listen to and to be on.
Other stations have my attention as well. Radio Waddenzee and Seagull also air good radio around. In 2006 i volunteer for several occasions at Waddenzee.
In August (the second) I start with programmes for Waddenzee: De Middagboot (The afternoon boat)
January 2007 a change in slot. At present i still have the 10.00 - 13.00 slot
Peter T


Terug naar de hoofdpagina van Beachradio:
Klik op de TERUG / BACK knop van je internet browser.
Of klik op onderstaande Beachradio banner.

Back to the mainpage of Beachradio click back button of your browser.
Or click on Beachradio banner.