Vandaag: 14-08-2009 NL - PETER ipv De MUZIEK ARENA 19.00-21.00:


Featured today (19-21):

The DAY the MUSIC DIED

Artiesten in de schijnwerpers:
Michael Robinson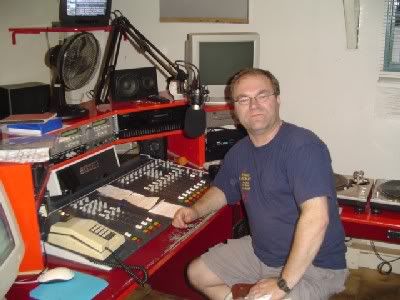 Henk is afwezig, dus neem ik waar (Peter) : Klik op foto-Click on pic
Today: 14-08-2009 UK - No Muziek arena 18.00-20.00 GMT
CA - Alternation 12.00-15.00 in the Manitoba area

Featured today (19-21):
The Day The Music Died
Artists in the picture: Michael Robinson




As usual there will be updates from the playlist every 10 minutes.
MSN contact: studio@radioenkhuizen.nl

19.00-21.00 uur - Muziek Arena: Met Henk Rustenburg - Click for playlist
Sorry, Not in today, Peter will be sitting in


19.00 (Peter is sitting in for Henk)

01-(7x)- Dollydots - Radio
02-(6x)- Jet Harris & Tony Meehan - Scarlett o Hara
03-(!9)- Lindy Waldeck - 1963
04-(6x)- Roaring sixties - We love the Pirates
05-(77)- Finale Documentaire The Day The Music Died: Tom Collins
06-(77)- Michael Robinson - The day the music died
07-(71)- Renaissance - Sounds of the sea
08-(98)- Michael Robinson - Misty state of loving
09-(!9)- Soraya Arnelas & Kate Ryan - Caminare
10-(!9)- Soraya Arnelas - La noche es para mi
11-(07)- Rosko & Dave Cash - Turn on the Pirates
12-(6x)- Big L theme
13-(73)- Noordzee koor - Geef ons een kans
14-(74)- Ben Cramer - Veronica vrij
15-(7x)- Les reed Orchestra - Man of action


Kayak frontvrouw Cindy Oudshoorn-
september 2009 NEW CD Letters from Utopia: Click pic for Website.



xx-(x)- xx - xx





Miriam Stockley: Click pic for website.

20.00 CET Alternation with Peter
16-(!9)- Oi Va Voi - Dusty road
17-(6x)- Unit Gloria - Heartaches and sorrows
18-(0x)- Maribelle - Ik wil jou
19-(98)- Michael Robinson - Melanie's song
20-(!9)- Maribelle - Gevallen Engel
21-(!9)- Noa & Mira - There must be another way
22-(!9)- Noa & Mira - Nanina
23-(!9)- Fleet Foxes - Your protector

Cindy Oudshoorn Soms als ik je zie op mijn website: Click pic.


24-(98)- Michael Robinson - Storm over Eden
25-(06)- Magenta & Annie Haslam - Night and day
26-(!9)- Nick Dekker - Vanavond
27-(!9)- Aniday - Don't fool with me
28-(75)- Barry Manilow - Mandy
29-(98)- Michael Robinson - Table for one